Description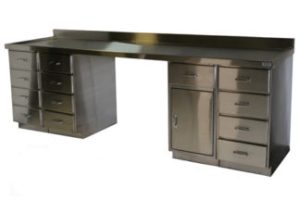 Built with a large work surface and two under mounted drawers, this medical equipment table can store items such as microscope slide and covers, vaccination supplies, and other exam supplies. The top has plenty of room for a microscope, centrifuge, and other tools, while still leaving clear space for paper work.
A backsplash helps to contain items and liquids.
The height of the table is 36″ allowing for standing work, but can be used with a stool if desired.
We use top quality, easy to clean 304 stainless steel with an attractive #3 brushed finish to construct this workstation.
Hospital environments, university labs, medical health care facilities, pharmaceutical laboratories, and veterinary clinics are just a few environments well-suited for this durable surgical table.
The 304 stainless construction is corrosion-resistant, easy to clean, and prevents the development of germs and bacteria.
The solid top is a stable work or examination surface and easy to keep clean.
Heavy duty 1- 1/2″ square tubing comprises the frame and level feet are included.