Description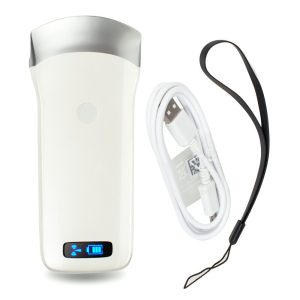 Application Range
In emergency clinical, hospital ward inspection, community clinical and outdoor inspect, an easy carried & operated compact ultrasound is desired.
In addition, the wireless probe can be conveniently used in surgery without fixing of cables. And by using the disposable protecting cover, it can easily solve the sterilization issue of the probe.
Also for powerful communication capability of the smart terminals, the wireless probe can meet the needs of the telemedicine..
Features
Workable with Tablet or Smart Phone.
Built-in and replaceable battery.
Advanced digital imaging technology, clear image.
High cost-effective.
Wireless connectivity, easy to operate.
Small and light , easy to carry.
Applicable in emergency, clinic, outdoor and vet inspection.
Intelligent terminal platform, powerful expansion functions on application, storage, communication, printing.
Technical Specifications
PARAMETER
SPECIFICATION
Scanning mode
Electronic array
Display mode
B/W Probes: B, B/M;

Color Probes: B, B/M, CF, PW, PDI

Scanning Frequency
Convex: 3.5MHz/5MHz;

Linear: 7.5MHz/10MHz or 10MHz/14MHz;

Tansvaginale: 6.5MHz

4D: 3.5MHz

Scanning Depth (adjustable)
Convex: 100mm~280mm;

Micro-Convex: 100mm~200mm;

Linear: 20mm~55mm;

Transvaginal: 50mm~100mm

Image Adjust
Gain, Focus, Harmonic, Denoise
Puncture assist function
the function of in-plane puncture guide line, out-of-plane puncture guide line, automatic blood vessel measurement, and the enhancement function of needle point development.
Measure
Length, Area, Angle, Obstetrics
Image frame rate
18 frames/second
Battery working time
3 hours
Charging method
USB charging, or wireless charging
Dimension
Convex/Linear: 156*60*20mm;

Transvaginal: 296*60*20mm;

4D: 180*60*60mm

Weight
270g
Wifi type
802.11g/20MHz/5G/450Mbps
Working system
Apple iOS, Android, Windows