Description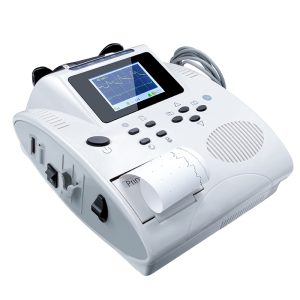 Specifications
1) Executive standard:
– Classification: Safety classification: Model BF/II device/inside power classification.
– Water-proof degree: Common device, without function of water-proof.
– Safety degree of flammable gas: Unsuitable to use under the flammable gas.
– Working mode: continuous work
– Frequency range: Main unit: 200±80~5000±1000HZ
Probe: 350±80~2500±500HZ
– External output: loudspeaker, single channel with earphone jack (optional)
– Emissive waveform: sine wave
– Ultrasonic frequency: 5.0MHz±10%、8.0MHz ±10%
– Ultrasonic frequency average intensity: <50mW/cm² – Velocity measure range: 0~100cm/s. – Test error: ≤20% (relative error) – Overall sensitivity: >100dB
– Printing speed: 40cm/min, 60cm/min, display synchronize with print.
– Frequency mode display range: 0.2 KHz~7.0 KHz
– LCD Display: 240*320dots TFT, LCD cursor indicates blood stream speed, double display mode for the spectrum and velocity.
– Power supply: AC/DC
– Input AC power: 110-240V, 50Hz/60Hz
– Output DC power: 24V/1.5A
– Power consume: <20W; built-in Ni-MH rechargeable battery: 14.4V/1600 mAh.
2) Fuse:
– for adapter: 3.15A,
– for rechargeable battery: 1.75A
– for charging circuit inside: 1.5A
– Power indication: blue LED indicagtion
– Charge indication: the charge indicator is yellow when charging and become green after full charge.
– Alarm indication: the indicator light is red when the lack of battery.
– Lack of paper indication: When the recorder is lack of paper, the indication light is red.
– Outline dimension: 210*220*105 (mm)
– Net weight: 1.9 Kg
3) Environment condition:
– Temperature: +5℃~+40℃
– Humidity: <80%
– Atmospheric pressure: 86kPa~106kPa
4) Transport and storage environment:
– Temperature: -10℃~+55℃
– Humidity: <80%
– Atmospheric pressure: 86kPa~106kPa
Packing Size
1PC/CTN, 42*22*42CM, 6KG/CTN