Description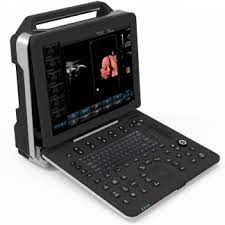 Summary of main specifications and system of laptop 5D color
Doppler ultrasound
Features
For Abdominal, OB&GYN ,Cardiac, Urinary, Small Parts, Superficial, Vascular, Pediatrics (neonatal), MSK, Physical examination and other aspects of examination and diagnosis.
Ultrasonic host operating system: Windows 8 operating system
Spectrum pulse Doppler
Direction energy Doppler
Real time three Synchronization
Space composite imaging
Organized harmonic imaging
2B/4B mode
Language:CN/EN/FR/SP/RU
Monitor:15 inches, high definition medical LED display
Display 0-180°adjustable
Physical clipboard: save the image on the left side of the screen, which can be directly saved or deleted.
System is upgradable
Presetting:For different inspections, preset inspection conditions for optimized images, reduce adjustments during operation, and commonly required external adjustments and combined adjustments
Support real-time 5D function
ONE active probe connectors
Support Trapezoidal imaging
II.Technical Specifications
PARAMETER
SPECIFICATION
Probe Frequency
Convex Probe
2.5MHz/3.0MHz/3.5MHz/4.0MHz/H4.0MHz/H5.0MHz,(Depth 20-317MM)
Linear Probe
6.0MHz/7.5MHz/8.5MHz/10.0MHz/H10.0MHz,(Depth 20-110MM)
Transvaginal probe
4.5MHz/6.0MHz/7.0MHz/9.0MHz/H8.0MHz,(Depth 30-111MM)
Phased Array probe
2.5MHz/3.0MHz/3.5MHz/4.0MHz/H3.0MHz/H4.0MHz,(Depth 30-371MM)
4D/5D Volume probe
2.0MHz/3.0MHz/4.5MHz/6.0MHz/H5.0MHz,(Depth 30-237MM)
Micro convex probe(R15)
4.0MHz/6.0MHz/7.0MHz/8.0MHz/H8.0MHz,(Depth 30-111MM)
Micro convex probe(R20)
2.5MHz/3.0MHz/3.5MHz/4.0MHz/H4.0MHz/H5.0MHz,(Depth 30-23.7MM)
All the probes aboved has harmonic frequency

Under each probe, there is a selection of specialties and organ modes to quickly enter the test.

5 B mode
Gain
0-100, step 1 visible adjustable
TGC
8 Segment Adjustable
Dynamic Range
20-280dB 20 level visual adjustable
Pseudo color
≥12 level,visual adjustable
Sound power
5%-100%,Step 5%,visual adjustable
Body mark
6 kinds
Focus
4 Focus,can be moved during the whole proces
Grey Scale
0-7 level, visual adjustable
Filtering
5 kinds
Scan range
50%-100%
Frame
0-4 level,visual adjustable
The screen has 14 forms of real time display of voice power, probe frequency, dynamic range, pseudo color, grayscale and so on
Line density
high, medium, and low
Color Doppler Mode
color deflection
equipped with
Color frame correlation 12 levels, visible and adjustable
Color map
7, visible and adjustable
Color reversal
adjustable
B/C split screen synchronous display function
equipped with
Color Baseline
11 level,visual adjustable
Color line density
adjustable
Spectrum Doppler mode
Sample volume angle correction
 -80°to 80° adjustable
Sample volume
0.5mm-20mm visual adjustable
Frequency
5 kinds,visual adjustable
Baseline
8 level adjustable
Smooth
8 level adjustable
Display layout
4 kinds, visual adjustable
Pseudo Color
6 kinds adjustable
Speed Scale
3-2288cm/s
Spectrum envelope function
real time automatic spectrum envelope, manual spectrum envelope, and so on. System automatic analysis and display: PSV, EDV, RI, PI, S/D, ACC, HR and other kinds of data
Measurement and analysis function
General measurement distance, area, angle, time, slope, heart rate, velocity, acceleration, neck hyaline layer, spectrum tracing, resistance index / plasticity index, etc.
OB Measurement
Weight measurement formula 13 options
The color and line type of the measuring line can be adjusted at will (including activating the color and completing the color).
Measurement results show that the location and font size can be adjusted according to needs.
Professional Software package
ABD, OB&GYN, Urology and etc.
Images and reports management system
Built-in 128G SSD, fast and stable
Video playback
600 frames
Internal patient file information management system: can record patient number, name, check number, check date and so on, and can be searched and managed by numbering, checking number, name and so on
Report type
17 kinds
One key to manage images and reports
Images save format
BMP  DICOM  JPEG  DEFAUIT
Interface
USB Port
3,  Audio Port:1, LAN Port:2, HDMI Port:1
III. Product Configuration
1.Standard Configuration:
Portable Color Ultrasonic Diagnostic Apparatus 1 Set,
Probes :Convex Probe,
Two Years free warranty,
Life-long maintenance after the expiration of the warranty period, and free upgrade and maintenance of the workstation software involved.
Optional Configuration:
Probes :Linear Probe、Micro-convex Probe(R20)、Phased array Probe、Transvaginal Probe、4D Volume Probe.
Video Printer,
Trolley.