Description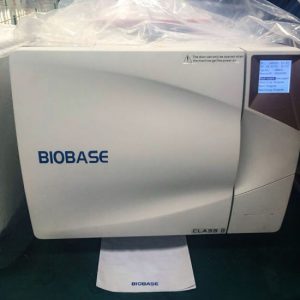 Features
Built-in open-type water tank
Water tank in open type makes it easy to be cleaned. It is available to continuously run with one time water filling, until getting the reminder of replacing the water. The water monitoring module in the tank ensures the enough water level and water quality, while offering the qualified steam to the chamber and keeps the cycle running stably.
Brand-new display interface
LCD screen can show temperature, pressure, time, running process, error and alarm information, etc. Sterilization information is more obvious and easier to observe the running state.
Multiple safety protection devices
Over temperature automatic protection device, multiple control and protection for steam generator, door safety interlock protection and dual chamber over-pressure protection, electronic circuit safety device.
Automatic door structure
AAL-45Ladopts automatic door structure, fast and simply operation, protecting the operators from scald. AAL-/60L/80L adopts multi-point synchronous linkage pressing technology, more reliable and durable.
Efficient vacuum
Efficient vacuum system, low working noisy, vacuum lower limit can reach over -90kPa, vacuum in highspeed, perfect drying performance, thorough sterilization.
A variety of programs
Sterilization programs:  Unwrapped, Wrapped, Rubber, User01, N-Quick, B-Quick, Prion Test Programs: BD & Helix, Leak Test
Auxiliary Program: Preheat, Drying, Washing
Efficient Steam generator
AAL-45L adopts built-in instant steam generator, AAL-/60L/80L adopts built-in energy-storage type steam generator producing steam in high speed and good quantity.
Other features
Pulse vacuum, heating, sterilization, exhausting, vacuum drying totally automatic. Chamber is heating by film heater, saving energy and time.
Model Specifications
Model
AAL-45L-B
AAL-60L-B
AAL-80L-B
Temperature Range
105℃-138℃
Design pressure
-0.1/ 0.3Mpa
Design Temperature
144℃
Chamber dimension(⌀*L) mm
316*618
358*595
358*717
Overall dimension WxDxH (mm)
830*640*550
1002*730*560
1002*730*560
Net weight
115kg
160kg
180kg
Input Power (KVW)
5.8
7.4
7.4
Power
1Φ 220V 50Hz