Description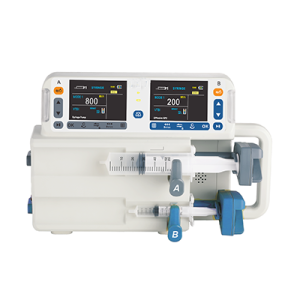 Features
Simplified, Intuitive Touch
– Independent operating channels, and with Online function—-AB channels can be worked cyclically and repeatedly;
– 3.5-inch large color display, making clinical use faster and more convenient;
– Independent power switch, conducive to clinical use and energy conservation;
-Tube management: a standard fitted side clamp to prevent infusion tube entanglement and enhance infusion overview and control.
Safe, Efficient and Practical
– Comply with IP44 high waterproof rating for all clinical application scenarios;
– DPS dynamic pressure display, multi-pressure alarm level, real-time protection of patient safety;
– Anti-bolus & anti-siphon functions increase patient safety;
– Auto & manual Bolus can be switched; KVO rate is adjustable for more clinical use;
– Change the flow rate during infusion without stooping the infusion;
– Large-scale & wide-angle color alarm lights to protect patients in real time.
Intelligent Design, Easy to Use
 – 5 infusion modes are available to meet the needs of different departments;
– 360 degree rotatable, vertical and horizontal mounting clamp to meet the needs of the clinical environment;
– More than 2,000 historical records for review and export, which is convenient for users to use;
– Multi-language can be switched and customized to meet various geographical needs.
Technical Specifications
PARAMETER
SPECIFICATION
Applicable Syringes
5ml,10ml,20ml,30ml,50ml,60ml of any standard
Accuracy
+/- 2% with correct calibration
Rate Mode
50ml(60ml): 0.1ml/h-2000.0ml/h (0.1ml/h or 1ml/h step)

30ml: 0.1ml/h-1200.0ml/h (0.1ml/h or 1ml/h step)

20ml: 0.1ml/h-800.0ml/h (0.1ml/h or 1ml/h step)

10ml: 0.1ml/h-400.0ml/h (0.1ml/h or 1ml/h step)

5ml: 0.1~200ml/h (0.1ml/h or 1ml/h step)

(Programmable 0.01ml/h~9999.9ml/h)

Time Mode
SOL. VOL: 0.1-9999.9ml (0.1ml step)

TIME: 00:01-99:59min (1min step)

Dose Mode
Volume: 0.1-999.9ml (0.1ml step)

DRUG MASS: 0.1-999.9mg (0.1mg step)

DOSE: 0.001-9999ug/kg/min (0.001ug/kg/min step)

WEIGHT: 0.1-300kg (0.1kg the least step)

Dose unit: ng/kg/min, ug/kg/min, mg/kg/min, g/kg/min, ug/kg/h,

mg/kg/h, g/kg/h, ug/min, mg/min, g/min, ug/h, mg/h, g/h, U/min, U/h,

IU/h, U/kg/h, ml/h

Total Volume Range
0.1-9999.9ml (0.1 ml step)
Drug library Mode
10 categories of drugs, 17kinds of dose units.

Makes drug dispensing more convenient and safer.

Sequential Mode
Available
Purge Rate
50ml(60ml): 1500.0ml/h,

30ml: 1200.0ml/h,

20ml: 800.0ml/h

10ml: 400.0ml/h, 5ml: 200ml/h

Programmable and adjustable

KVO Rate
0.1~5.0 ml/h, Programmable and adjustable
DPS Dynamic Pressure
Three levels setting LOW (60(±15)kPa), MEDIUM (90(±15)kPa) or HIGH (120(±15) kPa)
Alarms
Syringe Holder Loose, Syringe Plunger Disengagement, Syringe

Flange Insertion Error, Syringe Not Calibrated, Occlusion, Syringe

Empty, Rate Abnormal, Battery Empty, No Battery, Infusion

Complete, Syringe Near Empty, No Action, Battery Low

Three levels of alarm volume LOW, MEDIUM or HIGH

Bolus Rate
5ml: 0.1~200ml/h,10ml:0.1-400ml/h,20ml:0.1-800ml/h,

30ml: 0.1-1200ml/h,50ml(60ml):0.1-2000ml/h

Programmable and adjustable, Automatic/Manual bolus available

Bolus Volume
Range: 1.0~50.0ml, (0.1ml step)
Interface
RS-232
Brightness
1~10 levels can be selected
History Records
2000 events stored can be checked and downloaded
Power Source
AC power supply: AC 100 to 240V(+/-10%), 50/60Hz;

DC Power supply: 12~15V, power>15W;

Built-in Lithium Battery: Rechargeable, 11.1V, 2000mAh.

8 hours of continuous operation

Accessories
AC power line, Operational manual
Protection Class
Class I, Type CF, IP44
Dimension/N.W
350*150*220mm, 4kg
Packing size/G.W
400mm*200mm*2500mm, 4.5KG