Description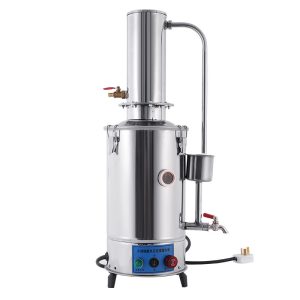 Features
-The products are all selected high-quality stainless steel material, the use of advanced technology means well made.
-Condenser plate stainless steel seamless pipe system, heat exchange efficiency is high, a large amount of water.
-Electrical control devices through low-level liquid level sensor control, and the heating element work. However, an evaporation pan water, this product can automatically cut off the heating power, also issued sound and light alarm, light alarm when the water level out loud, when the water level to re-meet the requirement, to continue to heat.
-The product with water as a source of water for electric heating system to take water distillation methods, with automatic cut off the power without water features, products, reasonable structure, stable performance, easy operation, suitable for medical and health, plating, lab, laboratory and manufacturing medicine departments.
Specifications
YAZD-5WS
YAZD-10WS
YAZD-20WS
Power supply: 220V 50hz

Hydraulic discharge: 5L/h

Power: 4.5KW

cut off the water supply automatically

Power supply: 380V 50hz

Hydraulic discharge: 10L/h

Power: 7.5KW

cut off the water supply automatically

Power supply: 380V 50hz

Hydraulic discharge: 20L/h

Power: 15KW

cut off the water supply automatically