Description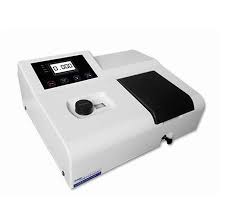 Product Description
5.Automatic wavelength calibration, automatic wavelength setting, automatic switching illuminant, automatic controlling deuterium lamp and tungsten lamp's switch, real-time monitoring lamp light time.
6.Wide sample room can hold 5-100mm various specifications of cuvettes.
7.Film buttons, convenient and simple operation.
8.Use professional analysis software, can realize the standard curve, dynamic test and other functions.
Technical Parameters
| | |
| --- | --- |
| PARAMETER | SPECIFICATION |
| Wavelength range | 190‐ 1100 nm |
| Wavelength accuracy | +/‐ 1nm |
| Spectral bandwidth | 2 nm |
| Wavelength repeatability | 0.5 nm |
| Stray light | <= 0.1%T @220 nm, 360 nm |
| Photometric accuracy: | 0.5%T |
| Photometric repeatability | 0.2%T |
| Photometric range | 0~200%T, ‐0.3‐1~3.000A, 0~9999C |
| Transmittance accuracy | +/‐0.002A(0~0,5A); +/‐0.003A(0.5~1A); +/‐0.3%T |
| Transmittance repeatability | <=0.001A(0~0.5A); <=0.002(0.5~1A); <=0.15%T(0~100%T) |
| Drift | <=0.001A/h@500nm |
| Baseline linear | +/‐0.002A/h@500nm |
| Stability | +/‐ 0.002 A/h @500 nm |
| Work way | T, A, C |
| Display area | 0‐ 200%T, ‐0.3‐3A |
| Display mode | 128*64 LCD |
| Zero setting | Automatic |
| Weight | 12 kg |