Description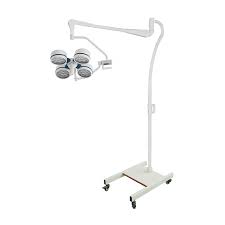 Features
-Excellent cold light: adopting LED as light source, without temperature rising.
-Excellent daylight quality and CRI meet the illumination needs of the doctors.
-Excellent lighting effect: unique optical system, homogenous light spot, high-definition.
-Brightness Adjustment: Microcomputer digital control, with 8 shifts luminance for selection and it offers illuminance memory function and wide voltage working specialty.
Technical Specifications
| | |
| --- | --- |
| PARAMETER | YD02-LED5S |
| Illuminance | ≥150,000Lux |
| Color Temperature | 4800±300K |
| Color Reduction Index (Ra) | 96 |
| Illuminance Depth | 600mm |
| Total Irradiance | 555W/m² |
| Size of Light Field | 100~240mm |
| Lamp Head Diameter | 550mm |
| Rated Power of Bulb | 3.2V/1W |
| Service Life of Illuminant | 50,000h |
| Power Supply Voltage | AC110-240v, 50/60Hz |
| Total Power Consumption | 100W |
| Total LED Bulb Quantity | 65pcs |
| | |
| --- | --- |
| PARAMETER | YD02-LED5E |
| Illuminance | ≥150,000Lux |
| Color Temperature | 4800±300K |
| Color Reduction Index (Ra) | 96 |
| Illuminance Depth | 600mm |
| Total Irradiance | 555W/m² |
| Size of Light Field | 100~240mm |
| Lamp Head Diameter | 550mm |
| Rated Power of Bulb | 3.2V/1W |
| Service Life of Illuminant | 50,000h |
| Power Supply Voltage | AC110-240v, 50/60Hz |
| Total Power Consumption | 120W |
| Total LED Bulb Quantity | 65pcs |
| | |
| --- | --- |
| PARAMETER | YD02-LED4S |
| Illuminance | ≥130,000Lux |
| Color Temperature | 4800±300K |
| Color Reduction Index (Ra) | 96 |
| Illuminance Depth | 6000mm |
| Total Irradiance | 488W/m² |
| Size of Light Field | 100~240mm |
| Lamp Head Diameter | 550mm |
| Rated Power of Bulb | 3.2V/1W |
| Service Life of Illuminant | 50,000h |
| Power Supply Voltage | AC110-240v, 50/60Hz |
| Total Power Consumption | 80W |
| Total LED Bulb Quantity | 52pcs |
| | |
| --- | --- |
| PARAMETER | YD02-LED4E |
| Illuminance | ≥130,000Lux |
| Color Temperature | 4800±300K |
| Color Reduction Index (Ra) | 96 |
| Illuminance Depth | 6000mm |
| Total Irradiance | 488W/m² |
| Size of Light Field | 100~240mm |
| Lamp Head Diameter | 550mm |
| Rated Power of Bulb | 3.2V/1W |
| Service Life of Illuminant | 50,000h |
| Power Supply Voltage | AC110-240v, 50/60Hz |
| Total Power Consumption | 80W |
| Total LED Bulb Quantity | 52pcs |
| Emergency Time | ≥6 hours |
| | |
| --- | --- |
| PARAMETER | YD02-LED3S |
| Illuminance | ≥120,000Lux |
| Color Temperature | 4800±300K |
| Color Reduction Index (Ra) | 96 |
| Illuminance Depth | 600mm |
| Total Irradiance | 460W/m² |
| Size of Light Field | 100~240mm |
| Lamp Head Diameter | 500mm |
| Rated Power of Bulb | 3.2V/1W |
| Service Life of Illuminant | 50,000h |
| Power Supply Voltage | AC110-240v, 50/60Hz |
| Total Power Consumption | 80W |
| Total LED Bulb Quantity | 39pcs |
| | |
| --- | --- |
| PARAMETER | YD02-LED3E |
| Illuminance | ≥120,000Lux |
| Color Temperature | 4800±300K |
| Color Reduction Index (Ra) | 96 |
| Illuminance Depth | 600mm |
| Total Irradiance | 460W/m² |
| Size of Light Field | 100~240mm |
| Lamp Head Diameter | 500mm |
| Rated Power of Bulb | 3.2V/1W |
| Service Life of Illuminant | 50,000h |
| Power Supply Voltage | AC110-240v, 50/60Hz |
| Emergency Time | ≥6 hours |
| Total Power Consumption | 80W |
| Total LED Bulb Quantity | 39pcs |