Description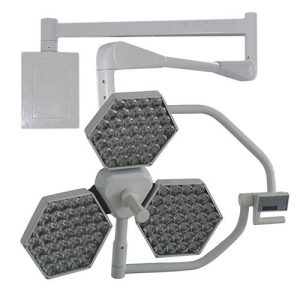 Features
-Uniform, homogeneous lighting in surface and deep cavity procedures thanks to SY02-LED´s innovative shadow control.
-Our ergonomic, sterile operating concept allows for the simple and flexible control of all functions by the surgical team.
-Almost unlimited LED life expectancy delivers tremendous product reliability and investment protection.
-Environmentally proactive: low power consumption and durable LEDs minimize the impact on our precious resources.
Technical Specifications
| | |
| --- | --- |
| PARAMETER | SPECIFICATION |
| Illuminance | ≥150,000Lux |
| Color Temperature | 4500±300K |
| Color Reduction Index (Ra) | 96 |
| Illuminance Depth | 1045mm |
| Rated Power of Bulb | 3.2V/1W |
| Total Irradiance | 127W/m² |
| Size of Light Field | 220~310mm |
| Service Life of Illuminant | 50,000h |
| Power Supply Voltage | AC110-240v, 50/60Hz |
| Lowest Height of Installation | 2500mm |
| Total Power Consumption | 60W |
| Total LED Bulb Quantity | 110pcs |