Description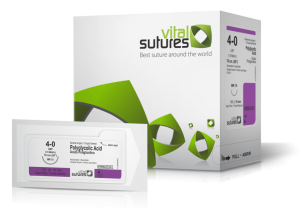 The Polyglycolic Acid suture is an absorbable braided multifilament surgical suture with synthetic coating, of greater tensile strength, a longer period of absorption and which results in very little inflammatory reaction. It is degraded by Chemical Hydrolysis, and is absorbed and metabolized by the human body. After the absorption of the suture, mass loss occurs and is then reabsorbed in full within 90 days. Of excellent workability, this suture provides a firm and secure knotting.
The Polyglycolic Acid surgical suture is indicated for use in in general surgery, plastic surgery, ophthalmic surgery, gynecology and obstetrics, episiotomy, urology, orthopedics, gastroenterology, general closure, ligatures, pediatrics and cuticular.
Being a synthetic suture, it should not be used when the support of tissues is required for prolonged time. It also loses strength in the presence of saline (bile).