Description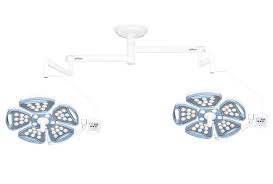 Features
-Imported LED cold light source is adopted, with the ultrathin optical lens.
-Digital means are adopted for stepless regulation of LED brightness.
-Light field size can be adjusted by the handle.
-The removable handle sheath can be disinfected.
-The service life of LED shadowless lamp is long (50,000h).
-Color temp can be adjusted in three steps.
-The imported switch power supply is adopted to control the voltage, making the work voltage permanently stable.
-The no welding titanium alloy arm, imported spring arm make sure the lamp head adjusted easily and freely.
-With Endoscopy surgery light model
-Ultrathin optical lens and Nano coating heat filter make a great shadowless and cold light effect.
-SMILE design control panel, illumination, color temp can be adjusted
Keeps You Cool & Wound Care
The LED cool light without infrared together with our Nano coating heat filter the exceptionally low heat dissipation (3.3mW/m²lx), which avoids the problem of heating the area around the surgeon's head, and prevents desiccation of exposed tissue, and is good for the quickly recover of the wound.
Changing the Light Color
You have the possibility to choose the optimum OR light as preferred or according to the tissue type and the wound field texture. This function can facilitate the clear distinction between various types of tissue and the perception of true tissue colors. Additionally, adjustable color selection can help with concentration of errors due to fatigue.
Excellent Shadowless Capacity
The well-proportioned LED bulbs deliver a 160,000lux of pure, white light, a bright, consistent spot on surgical field regardless of obstruction.
High CRI
It may enhance the chromatic aberration between blood, other body tissues and organs, and it thus helps the operating doctor to have a clearer view.
Specifications
PARAMETER
SPECIFICATION
Model
AML-LED.STZ5
AML-LED.STZ5/STZ5
Diameter of light head (cm)
70
70
Illumination at 1m (lux)
80000-160000
80000-160000 / 80000-160000
Endo model illumination
10000
10000
Light field diameter (cm) at 1m
10-28
10-28
Diameter of spot D10 (mm)
180±40
180±40/180±40
Diameter of spot D50 (mm)
110±35
110±35/110±35
L1+L2 Depth of illumination (cm)
150
150
Color rendering index (Ra)
100≥Ra≥85
100≥Ra≥85
Optional color temperature (K)
(3500-4500) ±500
(3500-4500) ±500
Number of LED bulbs
45
45/45
Average bulb life (hours)
50000
50000
Heat-to-light ratio (mW/m²lx)
<6
<6
Working distance(cm)
70-140
70-140
Power supply
100-240V 50/60HZ
100-240V 50/60HZ
Input power (VA)
180
180
Ceiling height for installation (cm)
270-320
270-320