Description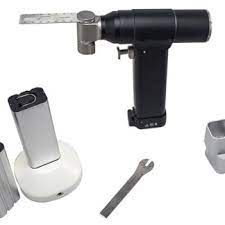 Application and feature
Electric surgical drill&saw is one of power tools widely used in orthopedic operation. Gradually replaced traditional industrial drill and saw, it can be autoclaved up to 135°C high temperature and 1.6Mpa high pressure. Some of bacteria can be killed by high temperature and pressure, fumigating can not do. Meanwhile, it can shorten sterilization time. Under high temperature and high pressure, just need 20 minutes, win the valuable time for the patient. The device is optional, good looking, small size, light weight, no wires, easy to carry, safe operation.
Item
Content
Specifications
Hand Piece
Working voltage
7.2V
Output power
≥50W
Unit rise in temperature
≤20°C
Charger
Input voltage
AC220V,50Hz
Output power
7.2V
Input power
30VA
Battery
voltage
7.2V
Charging time
About 3 hours
Reamer Drill
Non-load speed
0-1100rpm
Non-load noise
≤40dB
Diameter run-out
≤0.05mm
Output power
50W
Composition
Battery operated surgical drill&saw is made of main hand piece, charger, battery. The whole outer skin of the hand piece is sealed. Charger is not a medical electric device.
Standard configuration
one drill unit
one charger
two rechargeable batteries
two aseptic battery transfer rings
one drill chuck key
one instruction manual
one Aluminum alloy case