Description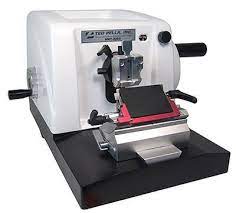 Features
-Ergonomically mechanism structure internal; free of fatigue
-Both of steel knife and disposable blade can be used.
-Specimen clamp can be fixed flexible in 3-dimensional axis, convenient to adjust the cutting angle.
-Hand-wheel can be locked in any position.
-Specimen retraction, changeable specimen clamp system
-Blade holder can slide to and fro, lateral without touch blade
-Compatible with steel knife holder type N and disposable blade holder type E
-Easy clean enclose
-Easy clean litter groove.
Technical Specifications
-Range of the thickness of slice: 0.5~60μm.
-Setting thickness of slice ranges:
0.5~2μm: increment 0.5μm
2~20μm: increment 1μm
20~60μm: increment 5μm
-Tolerance: ±1%
-Minimum setting value: 0.5μm
-Specimen horizontal feeding: 28mm.
-Specimen Stroke Length: 60mm.
-Maximum section of slice: 60 x 50mm
-Mechanized advance/return range: 0~28mm.
-Trimming thickness of slice ranges: 1-60μm
-Dimension: Length x Width x Height: 500 x 460 x 300mm; Weight: 27kg.