Description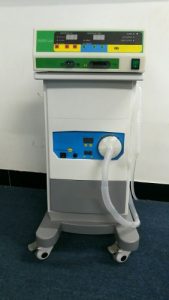 Specifications
-Microcomputer control
-ESU-L2000 (LEEP) generator adopts LEEP which specializing in gynecological intrauterine event, increasing the accuracy, controllability, security of the surgery.
-Dealing with some kinds of pathological changes in obstetrics and gynecology, for example, cutting, electrocoagulation, cervical erosion, and some kinds of surgery that fit in peritoneoscope.
-Different electrodes have different effects in coagulation.
-An optional smoke evacuation system is available.
-Particular illuminating ESU pencil can increase the clarity of wound healing.
Technical Specifications
PARAMETER
SPECIFICATION
Power
220V±22V, 50Hz±1Hz
Operating Frequency
360~460kHz
Power Rating
880VA±10%
Five Working Modes
Monopolar Cut
a) Cut1 (pure cut): 1W~200W (Load 500Ω)

b) Cut2 (Blend1): 1W~150W (Load 500Ω)

c) Cut3 (Blend2): 1W~100W (Load 500Ω)

Monopolar Coag
d) Coagulation1 (Spray Coag): 1W~120W (Load 500Ω)

e) Coagulation2(Forced Coag): 1W~80W ( Load 500Ω)

Power Consumption
≤1100VA
SURGICAL SAMOKE EVACUATION
Blowing Rate
100 l/min @ 6mm tube
Noise
<60dB(A)
Start Control
Manus/Foot/Synchronize
Suction Adjust
10%~100%
Stop Delay Time
0~60s
AC Power
AC90~250V, 50Hz
Power Consumption
< 350W
Filter Characteristics
99.999% @ 0.1-0.2μm
Active Carbon
97% @ 1 year
Packing List
Mainframe                         1set
Electrosurgical pencil                3pieces
Illuminating electrosurgical pencil      2pieces
Electrosurgical pad                  10 pieces
Electrosurgical pad cable             1piece
Foot switch                         1set
Electrodes                          1case(10pieces)
Tip clean sponge                    1piece
Fuse                               3pieces
Power cord                         1piece
Operating manual                   1book