Description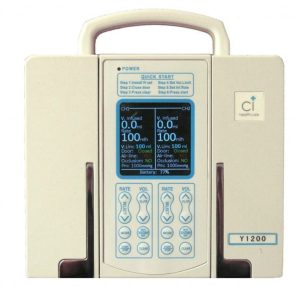 Introduction
AIP-Y1200 model infusion pump is the second-generation product by our company. It has LCD display screen and micro computer controlled. The peristaltic pump is power source with multiple sensors to monitor the infusion pump and has variety of alarm functions. It's easy to operate and meets all the demand of various cases of transfusion, like single infusion, infusion two liquids at the same time or infusion for two people. Using infusion apparatus with the infusion pump, it can control the liquid flow to the patient.
Features
Automatic infusion: According to the doctor's advice, set the infusion volume and speed. The linear peristaltic pump which is microcomputer controlled will manage infusion pump to make automatic infusion according to the setting infusion speed.
KVO status: After finishing the total volume of infusion, the pump will switch to KVO status automatically. (Keep vein open status).
Audible and visual alarm: Five kinds of alarms including Occlusion alarm, Bubble alarm, Door Open alarm, Infusion Finished alarm and Under-voltage alarm. When infusion failed, audible and visual alarm will occur and remind the operators to dispose in time.
Apply to variety liquids: It can be used to infuse colorless transparent liquid and high nutrient solutions and color opaque liquid.
Apply to infusion apparatus:
Ordinary infusion apparatus: Normal PVC titration transparent or lucifuge infusion apparatus (pipe diameter is about 3.5mm) can be used. Please make sure the pipe diameter and pipe wall of infusion apparatus must have a certain elasticity coefficient. New infusion apparatus should take calibration of the infusion precision before the first use. Note: Other specifications of the infusion apparatus may not be able to maintain accuracy (Even if the precision is being calibrated)
Specialized infusion apparatus: Specialized infusion apparatus has high elastic silicone tube. Please contact our company for purchasing.
Warning: The pump may be unable to maintain accuracy if use infusion apparatus which is not recommended.
AC/DC alternative: Built-in NI-MH rechargeable battery makes sure the device still can be used when the sudden power off. The machine automatically charges itself when the battery volume is low and stops when it's fully charged, and the indication light switches off. Please make sure it's fully charged around 7hours or it will shorten the lifespan of battery. Low voltage alarm will occur and indication light will flash when the battery mostly runs out in order to remind the operators to dispose in time.
Quick exhaust: Press the quick exhaust button twice and enter quick exhaust status. The stop status is quick exhaust, and the exhausted liquid will not be counted into cumulative infusion rate. Start state is quick transfused; discharged liquid will be counted into cumulative infusion rate. Loosen the button; the quick exhaust state will be stopped.
Infusion rate: It has Drop/min and ml/h two setting modes for users to choose. Note: Drop/min and ml/h is conversed from 20 Drops/ml, which is different from the actual drops.
Call interface: Reserve call interface to provide the centralized monitoring function for nurse station.
Technical Specifications
Infusion flow rate:
 -Specialized infusion apparatus: 0.1ml/h-1200ml/h;
 -Ordinary infusion apparatus: 0.1ml/h-600ml/h;
 -Remarks: within 0.1-30ml/h (0.1ml/h/step); over 30ml/h (1ml/h/step).
Infusion accuracy error:
 -Specialized infusion apparatus: ±5% (medium speed, 23°C, humidity: 60%);
 -Ordinary infusion apparatus: ±10% (medium speed, 23°C, humidity: 60%).
Total infusion volume preset: 0.1-9999ml.
Remarks: within 0.1-30ml (0.1ml/step); over 30ml (1ml/step).
Occlusion sensitivity:
 -It has three adjustable levels of occlusion pressure:
 -Low speed (1ml/h): 250~500 seconds;
 -Medium speed (120ml/h): 7~14 seconds;
 -High speed(600ml/h): 0.2~1 second
KVO Rate: 12ml/h
Built-in battery work time: 2 hours.