Description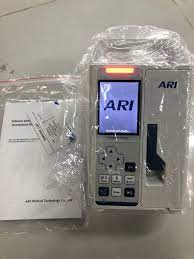 Feature
Delivery range: 0.1ml/h~1200ml/h.
High accuracy +/- 2% after correct calibrated.
Five work modes: Rate Mode, Time Mode, Dose Mode, Sequential Mode and Drug library Mode.
Manual /Automatic Bolus
Vertical & Horizontal mounting clamp.
Anti-bolus system to reduce significantly after occlusion sudden release.
DPS dynamic pressure display.
2000 events stored can be checked and downloaded.
Large color TFT display, the brightness can be adjusted to adapt to the clinical use of the environment.
Technical Specification
PARAMETER
SPECIFICATION
Fit IV tubes
Can be used with any brand IV set after exactly calibration
Pump Type
Peristaltic finger pump
Accuracy
±2%
Delivery rate range
0.1ml/h~1200ml/h

(0.1ml/h~99.9ml/h, 0.1ml/h step; >99.9ml/h, 1ml/h step)

Delivery time range
00h01min~99h59min (1 min step)
Volume limit range:
0.0-9999ml (1 ml step)
Total Volume Range
0.0-9999ml (1 ml step)
Dose Mode
Volume:0.1-999.9ml(0.1ml step)
DRUG MASS:0.1-999.9mg 0.1mg step)
DOSE:0.001-9999ug/kg/min(0.001ug/kg/min step)
WEIGHT:0.1-300kg (0.1kg the least step)
Drug library Mode
AIP-1200Y with drug library, can store 1030 kinds of drug names, makes drug dispensing more convenient and safer.
Sequential mode
(Optional)
KVO Rate
0.0~5.0ml/h. Programmable and adjustable
DPS Occlusion Pressure
LOW: 60± (15) kPa

MEDIUM: 90 ±15kPa

HIGH: 120 ±15kPa (Adjustable)

Alarms
Rate Abnormal, Door Open, Air-in-line, Occlusion, Bottle Empty, Battery Empty, No Battery, Key Holding During Infusion/Pause, Infusion Complete, No Action, Battery Low.
Alarm volume
Three levels of alarm volume: LOW, MEDIUM or HIGH
Bolus function
Bolus rate:1.0~1200ml/h, Bolus volume:1.0~100ml

Automatic/Manual, programmable and adjustable

Purge Rate
Programmable and adjustable
Interface
RS-232
Brightness
1~10 levels can be selected
History records
2000 events stored can be checked and downloaded
Power source
AC power supply: AC 100 to 240V( +/-10%),50/60Hz;

DC Power supply: 12~15V, power>15W;

Built-in Lithium Battery: Rechargeable, 11.1V, 2000mAh.

12 hours of continuous operation

Protection Class
Class I, Type CF, IPX4
Dimension /N.W
120mm*100mm*215mm, 1.7kg
Packing size/G.W
300mm*260mm*160mm, 2.5KG