Description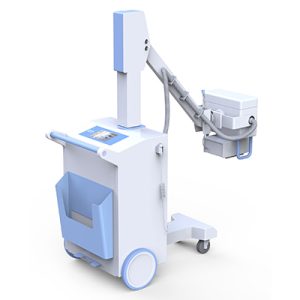 Features
The kV closed-loop control is adopted for high frequency and high voltage generator. The digital closed-loop control technology by mAs and real-time control by the microprocessor have guaranteed accuracy and repetition of dosage.
Two-button adjustment by kV and mAs, display by LCD and memory by parameters after power failure.
The users can depend on themselves to revise the parameters of the 50 preset parameters human anatomy program.
It is featured with protection for shortage of high voltage, over-flowing of tube current and output over-loading as well as indication for failure.
The structural design of human engineering is simple and convenient for operation and overhaul.
II. Specifications
Power Output
5.0KW
Frequency
40KHz
X-Ray Tube
Fixed anode
Focus 1.5
Tube Voltage
40~120KV (interval 1KV)
Tube Current
40~49KV 100mA 1~180mAs
50~59KV 77mA 1~140mAs
60~69KV 64mA 1~125 mAs
70~79KV 55mA 1~110 mAs
80~89KV 49mA 1~100 mAs
90~99KV 44mA 1~80 mAs
100~109KV 32mA 1~63 mAs
110~120KV 25mA 1~50 mAs
mAs
1.0~180 mAs (46 steps)
Power Supply
220V±10% 50Hz inner-resistance≤1.0