Description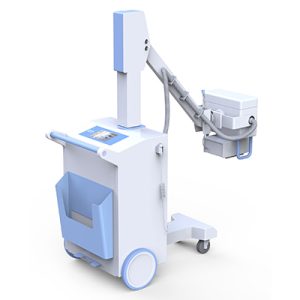 Features
With high frequency inverter to emit high quality X-ray and low dose on skin, and ensure excellent definition and contrast of pictures.
2. With techniques of KV analog closed loop control, mAs digital closed loop control and micro-processing real-time control to ensure precision and repeatability of the dose.
3. With kV, mAs two button adjustment, LCD display, multifunction of safety guard.
4. With 50 preset exposure programs, and can be modified and stored by the user for convenient operation.
5. With a high-quality knockdown X-ray generator to reduce irradiation, which is much safer to environment and operator.
6. With a symmetrical beam applicator to adjust the X-ray field and a collimator lamp to locate the filed to ensure accurate radiograph.
II. Specifications
Power Output
3.5KW
Frequency
40KHz
X-Ray Tube
Fixed anode
Focus 1.5
Tube Voltage
40~110KV (interval 1KV)
Tube Current
40~49KV 63mA 1~125 mAs
50~59KV 56mA 1~110 mAs
60~69KV 45mA 1~90 mAs
70~79KV 40mA 1~80 mAs
80~89KV 36mA 1~71 mAs
90~99KV 32mA 1~63 mAs
100~110KV 20mA 1~40 mAs
mAs
1.0~125 mAs (45 steps)
Power Supply
220V±10% 50Hz inner-resistance≤1.0