Description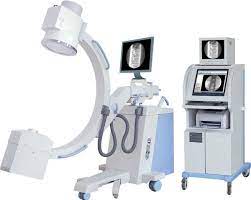 Features
Leading domestic level Mobile Surgical X-ray machine. Real continuously pulse fluoroscopy 25fps. Convenient connection with the Digital subtraction system.
One million pixels CCD camera makes the image more distinct.
World-class image processing technology software makes the image more distinct to make it more convenient for the doctors in the operation and diagnostic process. Standard DICOM interface makes it convenient to connect with the hospital information system.
The pulse fluoroscopy can obtain high –definition image from low dose to meet the requirement of the high-precision and high difficulty microinvasive operation.
Low radiation dose used can protect the doctor and patient.
Unique double foot brake controller design makes it convenient to control the instrument inside and outside the operation room. This design can also protect the health care professionals by reducing the opportunity to come into contact with the radiation.
Exclusive inside and outside monitor design makes it more convenient to observe the operation process either inside or outside the operation room. At the same time, this design can facilitate the outdoor teaching and the real-time observation of the surgical procedures.
Uniquely designed basement electric auxiliary supporting arm, ensuring safer use.
Specially designed portable controller, facilitating operation.
10.New-pattern frame design with a small and pleasing shape.
High-quality combined HF-HV X-ray generator, greatly reducing the X-ray irradiation.
The fluoroscopic KV and MA automatic tracking function makes the image brightness and definition shift to the best condition automatically.
Toshiba image intensifier is employed, stable and reliable in quality and sound in image definition.
Dense X-ray grid is used, further improving the image definition.
III. Configuration
New (with electric auxiliary support arm) C-arm host 1 set
High-frequency high-voltage X-ray generator and high-frequency inverter power supply(5.0KW、40KHZ、120KV)                   1 set
Toshiba 9-inch image intensifier                  1 set
1 million pixel ultra-low-light digital cameras       1 set
Digital image processing system (workstation)     1 set
South Korean imported grids                    1 set
Electric adjustable limit beam splitter             1 set
19-inch HD LCD display                        2 set
19-inch Medical use gray scale display           1 set
Technical Specifications
PARAMETER
SPECIFICATION
Electrical

Performance

Photography Capacity
5KW
Automatic Fluoroscopy
Tube Voltage:40kV~120kV adjust automatically

Tube Current:0.3mA~4mA adjust automatically

Manual Fluoroscopy
Tube Voltage:40kV~120kV Continuous

Tube Current:0.3mA~4mA Continuous

Pulse Fluoroscopy
Tube Voltage: 40kV~120kV Continuous

Tube Current: 4.1mA~30mA Continuous

Pulse frequency: continuously, adjustable

Photography Tube Voltage and mA
40 kV~120 kV   20-100mA
Plate holder Size
200mm×250mm(8″×10″) or

250mm×300mm(10″×12″)

X-ray Tube
X-ray Tube Special for High Frequency
Fixed anode Dual-focus, small focus: 0.3,

Inverter Frequency: 40KHz

Video

System

Image Intensifier
Image Intensifier made by TOSHIBA (9″)
CCD Video camera
One million pixels ultralow-light CCD camera
Monitor
High-definition, high-resolution, optional specification
System: (standard)
real-time image collection, specular image, recursive level 0-15 continuously adjustable,

last frame frozen, Gamma correction, mass storage, image W/L adjustable, gray-scale conversion, interest district balance, reversal, noise reduction, intensify, smooth, sharpen, compress, enlarge, measurement, label, print and typesetting, DicomSCP, DicomSCU, DicomDIR, Dicom Printing Structure

Structural performance
Directive wheel
±90°revolution, can freely change the moving direction of the unit.
Ascending & Descend
≥400mm
C-arm
Forward and Backward Movement: 200mm

Revolution around Horizontal Axis: ±180°

Revolution around Vertical Axis: ±15°

Focus screen distance:1000mm C-arm opening: 800mm

C-arm arc depth: 640mm

Slip on orbit: 120°(+90°~ -30°)