Description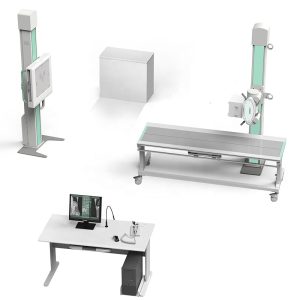 Main Technical Parameters:
Item
Content
Technical Parameters
Power
Voltage
380V±10%
Frequency
50Hz±1Hz
Capacity
≥65kVA
Internal Resistance
≤0.17Ω
High Frequency High Voltage X-Ray Generator
Power
56KW
Inverter Frequency
440 KHz
Tube voltage
40kV—150kV ,continuous adjustment
Tube current
10mA—710mA , grade adjustment
Exposure time
0.1ms—10000ms
mAs
0.1-900mAs
X-ray source assembly

(TOSHIBA E7252X)

Tube Focus:big/small
1.2mm /0.6mm
Input power
Big focus 75kW Small focus 27kW
Anode thermal capacity
210KJ
Rotary anode speed
9700rpm
Digital Flat Panel Detector
Active area
427(H)×427(V)
Pixel matrix:
3072(H)×3072(V)
Pixel pitch:
139 μm
Cycle time:
Less than 6 s
Limiting resolution
3.1 lp/mm typ
A / D transition:
14 bit
Energy range
40 – 150 kVp
Maximum entrance dose (low gain)
4 mR / frame
power Input:
DC 24V2A
Bucky Stand
Up and down movement
Not less than 1300mm
Table
SID
500~1280mm
Table bearing
135kg
Original imported high frequency host and high speed tube
-TOSHIBA highest inverter frequency x-ray tube and high frequency voltage generator.
Constant direct current high voltage output, it can achieve high quality monochromatic X-Ray and eliminate the harmful effect of soft ray to image thoroughly.
-Equipped with high performance and large capacity X-Ray tube
Adopt 0.6/1.2mm2 dual focus, 300KHU large capacity and high speed X-Ray tube,it is suitable for long time and high intensity clinical examination.
-Intelligent high voltage control system with multiple human APR, LCD display show APR rules, and set according patients figure, position and part automatically, it's fast and convenient.
-Computer progress control, remote operate, electric multi-lead collimator, adjust X-ray range as diagnosis need, this reduce X-ray harm for patients and atmosphere
-Multi self-diagnosis program, has RS232 port, and with error indication function.
High definition digital image chain to ensure that minor lesions can not be passed.
-Imported DR flat panel detector, it does not need any conversion but it can finish digital photography of each position to achieve real direct digital.
-DR flat panel detector DR connected with image processor achieves low noise and rich contrast image, edge enhancement filtering device makes the edge of image more clear and sharp.
-3k×3k gathering matrix, more than 900 mega pixel, promise high photo space definition, and good signal-no-noise ratio.
-17"*17" fixed flat panel detector can cover whole abdomen and whole chest, no limitation for photography.
-Fast image speed, work together with DROC soft, and promote work efficiency.
-A-si stable function, low requirement for temperature, and no crystal under high temperature.
Equipped with new digital image system achieves rich digital image processing function
Advanced digital image processing function
-Pre-assembled Windows professional operating system and professional image processing software
Image playback: thumbnails view, sequence replay tools.
Image processing: W/L adjustment, arrows and words etc labels, angle and distance measurement, image scaling, translation, up/down conversion, left/right conversion, rotation, black and white reversal.
-Image storage: image real-time storage, DICOM image send, A shampoo Burning Studio, derived storage (choose various storage ways Bitmap, JPEG, AVI etc to be used in Word and Power-point office software, it is convenient for the doctors to write diagnostic reports and papers ).
-DICOM3.0: can be connected with laser camera to print film and PACS NETWORK.
-Medical record management: database management, graphic report, support for WORKLIST.
DR Workstation
Touch screen operation and UPS for the workstation
Computer system:
B150 PLUS motherboard; processor: Intel Core I5 6400
Memory: 8 GB DDR3
Hard disk: 1T SATA (7200 rpm)
Optical drive: DVR-221CHV CD burner
NIC: Intel(R)gigabit CT
Graphics card: gtx1050
Display: Dell (DELL) U2412Mc display