Description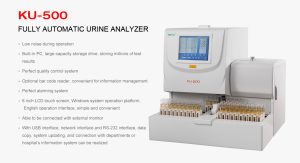 Test Items
12 Chemical Items: white blood cell(WBC), occult blood(BLD), urobilinogen(UBG), glucose(GLU), ketone body(KET), bilirubin(BIL), Power of hydrogen(PH), Viatamin C(VC), specific gravity(SG), urine protein(PRO), nitrite(NIT), microalbumin(MAL)
1 Physical Item: Color detection
Full Automation
Automatic system for inserting, sampling, strip-choosing, Dropping, detecting,Cleanning and waste strip/liquid discarding.
Automatic system analyzing and report printing.
Detection System
Sampling volume≥ 2ml
Detection speed:240samples/hour
Inwall flushing and outwall spraying technology, prevent cross contamination from carry.
Accurate quantitative sampling system to avoid cross contamination.
Fast and Accurate strip-choosing system improve efficiency.
Specially Emergency detect function.
Fully Enclosed Strip Tank
Large strip capicity, >300 test strips.
Built-in desiccant, prevent strip from dampness or oxidization.
Easy to use, strips can be added at any time