Description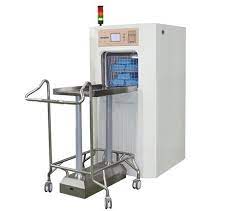 Features
Accurate parameter control
Sterilization temperature, humidity, pressure and time data are collected by relative sensor and transferred to PLC.
Perfect chamber temperature conducting
    Chamber is made of aluminum alloy which has good thermal conductivity makes chamber temperature conducting fast and uniformity.
Dual sterilization temperature choices
High temperature 55℃ , Low temperature 37℃.
Humidify control system
Humidity sensor in high accuracy ensures chamber humidity keep in stable level.
Power off memory function
Once power off, the sterilization data will be saved automatically and will automatically continue the sterilization when power on.
Negative pressure in whole cycle
Chamber pressure is always negative in whole cycle ensures EO gas no leakage to outside during working.
Safety EO gas puncture device
EO gas can automatically punctured by special device in the chamber, no need human intervention.
Chamber pressure real-time monitoring function
Any pressure abnormal in the chamber will cause the machine alarm.
Efficient ventilation system
Automatic pulse Vacuum ventilation ensures EO gas exhaust thoroughly.
Door interlock
The door cannot be opened while program is running.
EO gas concentration monitor (optional)
Accuracy: 0.1PPM, portable design.
Technical Specifications
Model
XG2. C-130
XG2 C-220
Chamber dimension (LxWxH)
750*450x400mm
1250x450x400mm
Overall dimension
950x860x1730mm
1450x860x1730mm
Chamber volume
135L
225L
Net weight
300KG
400KG
Input power
3.5kVA, 220V,50Hz
4.5kVA,220V,50Hz
EO gas can
Oder code
Z-100
V-170
Net weight
100g
170g
Suitable sterilizer
735mg/L
750mg/L
Automatic lifting trolley
Order code
T-100
T-200
Loading platform dimension (LxW)
800x400mm
1300x400mm
Overall dimension (LxWxH)
1150*780*1165
1650*780×1165
Sterilization concentration
735mg/L
750mg/L
Lifting range
720-1220
720-1220
Max. load capacity
100Kg
150Kg
Weight
55
70
Suitable sterilizer
XG2.C-130
XG2.C-220