Description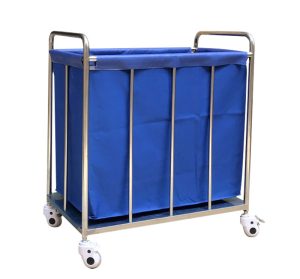 Technical Specifications:
Trolley to hold bag for collection and transportation of soiled linen across a hospital facility
Heavy carriage mounted on 4 swivel castors, of which two with brake
Two supports up from the carriage base connect to upper-side ring structure
Ring, without lid, accommodates removable linen bag
Washable canvas bag fit with strong draw string
Materials:
High resistance to corrosion (tropical environment)
Frame: epoxy coated tubular steel
Bag: canvas, woven nylon
Caster frame/bracket: steel
Caster brake: total-lock type (wheel and rotational lock)
Caster wheel: single wheel, mold-on type, non-hooded (for easy maintenance)
Dimensions:
Trolley, overall: 50x90cm (diameter x h).
Frame: 3.0-3.3cm (outside, across),1.35-1.65mm thickness.
Swivel castor wheel: 2-2.3×7.5cm (w x diameter).
Carrying capacity: 50kg.
Linen bag capacity: 100L.
Knockdown construction: yes
Items supplied with:
1 x complete set of tools required for assembly
2 x canvas bag with draw string
List of accessories and parts
Detailed step-by-step instructions for assembly and safe use, text-free pictorial based (i.e. line-drawings only)
Number of units per primary packaging:
One (1) unit per box.
Safety process:
Check the integrity of each unit before use:
Do not use if damaged.
Weight/Volume:
Estimated Weight: 8kg
Estimated Volume: 0.044m3