Description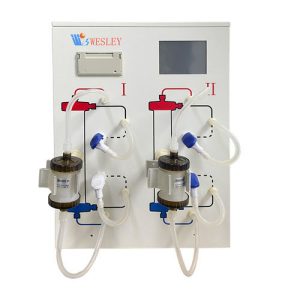 Features
– Reprocessing two dialyzers simultaneously working more effectively.
– Compatible with many brands of disinfectant saving 90% of the cost.
– Automatic disinfectant dilution – Accuracy & Safe
– Anti-cross infection control – extra blood port header to prevent infection among patients
– Double printing design
Built-in printer easy for safekeeping
External adhesive sticker printer (optional)
– Record function: Name, Sex, Date, Time, Case No etc.
– 51 patented technology – Ensure stable performance/ technical lead.
– Data storage is greater than 160G, the dialysis patients' relevant data can be stored more than 50 years (Optional)
– Adopt pulsating current oscillation technique to process these procedures including positive and reverse rinse as well as positive and reverse UF. This way can eliminate the leftover in the dialyzer
– In a short time to resume cell volume to prolong life span of dialyzers.
– The accurate and efficient test of TCV and blood leak reflect directly the situation of the reprocessing, thus assured the safety of the whole process.
– Free from compound disinfectant every day, 100% easy!
– Free from the risk of burning clothing or skin during dilution the disinfectant, 100% safe.
– Free from human error lead to the incorrect disinfectant ratio, 100% precision.
– Humanized LCD display and touch screen control technology in English make the operation simpler.
– Dialyzer model, volume, UF coefficient etc. Stored in the machine, make the operation easier and precision.
– Troubleshooting tips and shooting alarm when without R.O water, disinfectant or pressure, volume, affusion invalid. Timely remind the operator to process.
Main Work Flow
– Rinse: Adopting pulsating current oscillation technique. Using RO water to rinse the dialyzer.
– Clean: Sucking and diluting the disinfectant then cleaning the dialyzer.
– Test: Use RO water to rinse the dialyzer. a. Automatically testing the capacity of the blood chamber to check whether the membrane is broken or not. b. Automatically testing the pressure.
– Affusion: Sucking and diluting the disinfectant automatically according to the volume of the dialyzer.