Description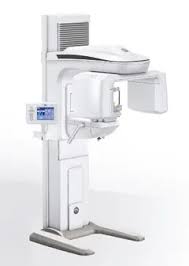 Using the world's top high-end flat panel detector, high resolution,
small distortion, uniform brightness.
Use exposure mode, only when needed to activate the X source. During the rotation of the 18s, the rays last only 4-8s. The effect of reducing the check dose, reached the international advanced level.
3000A proprietary three-dimensional reconstruction algorithm, the original two-dimensional sequence projection into a three-dimensional volume image, you can at any angle, any location to provide high-definition tomography.
through the three-dimensional volume image extraction of oral panorama, can provide high-definition panoramic images.
5, the image can be used to generate reports, print or save as a report file.
6, can provide standing, sitting and wheelchair and other kinds of film.
III. Standard Configuration
1、Main Frame
1 set
2、High Frequency High Voltage X-ray Generator
1 set
3、19 inch color ordinary LCD monitor
1 set
4、12cmX15cm flat panel detector
1 set
5、Digital Acquisition Processing Workstation
1 set
6、Electrically adjustable collimator
1 set
7、Graphical LCD touch screen
1 unit
8、Wall-mounted control box
1 unit
9、Electrical control cabinet
1 unit
10、Printer (optional)
1 set
Technical Specifications
PARAMETER
SPECIFICATION
Technical indicators
Anode voltage: 60-92 kV
anode current: 1-15 mA.
Maximum output power: 1.38kw
parameter adjustment range: 60 ~ 92KV 1 ~ 15mA
Information display: KV, MA, lifting position information, human characteristics, laser indication and positioning
X-ray tube
X-ray Tube Model: D-054SB (Toshiba)
Focus: 0.5
Heat capacity: 35kJ (50kHU)
photography mode: cone beam CT
Image system Thales flat panel detector 650HD-E
image receiving size: 12cmX15cm flat panel detector
pixel size: 150
A / D conversion depth: 14bit
Acquisition mode: pulse mode
Detector Type: CMOS
Pixel matrix: 960 * 786
Limit resolution up to: two-dimensional ≥ 3.1 lp / mm
Structural Performance
Column lift stroke: 1000mm
Lifting noise: <70dB (with buzzer sound)
Collision protection: Yes
Weight: 260kg
Dimensions: 788mm (width) X 1090mm (length) X 2200mm (height)
Power requirements: 220V / 50HZ / 2kVA
Space requirements: the required area of 5 square meters, unilateral 2 meters
The camera room should have a protective thickness of 2 mm lead
Electrical control device size: width 340mm, depth 550mm, height 650mm