Description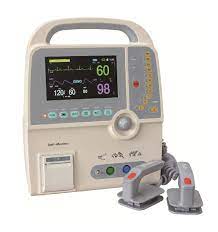 Technical Specifications
Defibrillation
-Waveform: Biphasic
-Defibrillation type: Manual External Synchronous/Asynchronous Defibrillation.
-Charge Time: Less than 10 seconds to 360 Joules
-Energy Display: Monitor display indicates both selected and delivered energy.
-Charge Prompt Type: Voice and visual prompts.
-Energy Selection: Selectable at 0, 3, 5, 7, 10, 20, 30, 50, 100, 200, 300, 360 joules
-Standard Adult/Pediatric Paddles: Reusable external adult paddles (pediatric paddles integrated)
Power Requirements
-AC-DC dual-use: Use the batteries, AC100V~240V,50/60 Hz.
-Vehicle Voltage (option): DC 12V Li-ion battery
Battery Description
-Standard Type: Li-ion battery Li1104c 11.1Vdc 4000mAh X2
-Standard Capacity: Up to 10 hours ECG monitoring or 60 full-energy discharges.
-Low Battery Indicator: Flashing low battery icon on display and Bat Indicator on the panel of defi-monitor be on
-Recharge Rate: 80% in 3 hours. 100% in 5 hours.
Display
-Screen Type: High-resolution display
-Screen Size: 7 inches (17.7cm) diagonally
-Sweep Speed: 12.5/25/50mm/sec
-Information: Heart Rate, Lead, Alarm On/Off, Delivered Energy
-Resolution:480*272 pixel
ECG
-Patient Connection: 3-lead ECG cable, or 5-lead ECG cable, paddles.
-Lead Selection: Displayed on monitor, paddles, I, II, III, AVR, AVL, AVF, V.
-ECG Size: 2.5,5, 10, 20, 30 mm/mV display on monitor.
-Heart Rate: 20-350BPM.
-Protection: With stand 4000vAc/50Hz voltage in isolation and work against electrosurgical knife and defibrillation
Built-in Recorder
-Paper: 50mm thermal.
-Printing Method: High-resolution, thermal print head.
-Record date, time sweep speed, waveform gain, heart rate, energy (joule) and ECG waveform
-Print mode
HR exceed limits alarm recording
Auto timed recording
Real-Time Recording
Defibrillation discharge trigger recording
Standard Configuration
Biphasic Defibrillation, ECG, Recorder
Optional Configuration
AED, SPO2