Description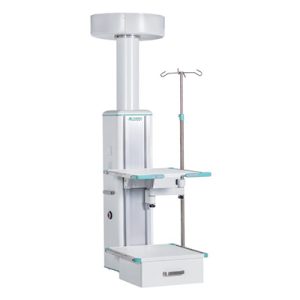 Introduction
AM-T.IVB Davit Wet and Dry Pendant, equal to T.IVA, to which transfusion device is added, occupying little room and complete functions.
Features
– The hanging post and control cabinet of the tower crane adopt the imported high-strength aluminum alloy of patent technology for the one-off extrusion molding, and the surface undergoes the primary oxidation treatment.
– Aluminum molding tray with non-slip texture.
– Mechanical friction damping brake.
– The gas pipeline, power supply and computer communication line are separately arranged without interference.
– The imported German standard gas terminal (over 20,000 of pulling out and inserting) is adopted.
Technical Specifications
– Occupies little space; combine wet and dry
– One AIR\O2\VAC
– Four power outlets; one network outlet
Basic configuration
One discharge device (German style) for oxygen, suction gas and compressed air, four power outlets, one network outlets. (Optional gases)