Description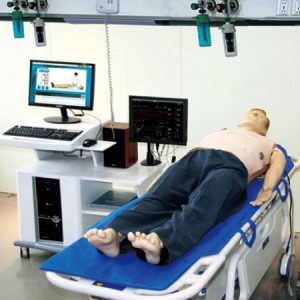 Serviceable subjective:
Respiratory department, Cardiology department, Neurology department, Genitourinary Surgery, Surgery, Pharmacology, Nursing, Anaesthesia medicine, Emergency medicine, Critical care medicine, Military/Field medicine;
Serviceable group:
Post-graduate, interns, doctors, anaesthesia doctor, emergency center doctors, field ambulance staff, advanced study doctors, nurse;
Serviceable range:
Clinical teaching, physician, various assessment and emergency knowledge popularity;
Implement standard: AHA (American Heart Association) 2010 guideline for CPR and ECC.
Features:
This sign indicates that the functions can be run only when the manikin is used with the optional accessories;
Head and neck:
1.Vital signs simulation: pupil observation, LCD pupil display with CSTN pseudo-color, 65K color, RGB; diameter range: 1-9mm; simulate different pupil states: normal, mydriasis and miosis. Etc; spontaneous carotid artery pulse, vivid reproduction of patient moaning, coughing and vomiting sound;
2.Respiration mode: normal breath, sighing breath, Cheyne-stokes breath, Kussmaul-kien respiration and Biot's respiration;
3.Airway management: standard oral and nasal intubation, tracheotomy; open airway by head tilt and jaw thrust; audible warning feedback if there is pressure on the teeth; detect intubation position via auscultation;
Chest and abdomen:
1.CPR Operation Training: multiple breathing ways by mouth to mouth, mouth to nose and simple respirator to mouth; electronically monitor airway open, respiratory times, frequency and volume, and compression times, frequency, position and depth; automatically judge the ratio of respiration and chest compression.; showing data in real time with English voice prompts during the entire process; after successful rescue, pupil state change to normal and restore spontaneous carotid artery pulse;
-Real defibrillation and pacing: can be used with different kinds of defibrillating pacer to achieve real defibrillation and pacing;
-Simulative defibrillation and pacing: multimedia animation displays the operation process of medical defibrillator; used with AED980 simulative defibrillating pacer to achieve defibrillation and pacing; defibrillation energy is selectable, the maximum energy is 360J;
-Real AED: can be used with different types of AED to achieve AED operation;
-Simulative AED: multimedia animation displays AED operation process; be used with AED98F automatic external defibrillation machine to achieve AED training; English voice prompts during the entire process; providing electrode button; automatic heart rhythm detection and analyze if the defibrillation is needed;
-Real ECG monitoring: supporting different manufacturers and types of ECG monitor, which can achieve real ECG monitoring;
-Simulative ECG monitoring: monitor blood oxygen with finger-piece blood detecting head; simulative ECG monitoring can be achieved while using with AEDJ116 simulative multi-parameter ECG monitor; available of thousands of ECG; the LCD screen of simulative multi-parameter monitor (only for training use) displays 2-lead ECG, saturation of blood oxygen, breath, CO2, BP (arterial BP, central venous pressure, pulmonary arterial pressure, non-invasive BP), cardiac output etc;
2.Auscultation: provides dozens of sounds, including normal heart sound, abnormal heart sound, normal breath sound, abnormal breath sound, normal bowel sound, abnormal bowel sound;
Limbs:
BP measurement, venipuncture and vastus lateralis intramuscular injection; highly realistic arm vein; a discernable "pop" can be felt when entering the veins and blood flash back indicating proper insertion; skin and blood vessel is replaceable;
Software:
1.Simulative injection pump/infusion pump usage: multimedia animation shows the operation procedures of injection pump and infusion pump; drugs can be selected while operation;
2.Training and examination supporting ECG, emergency scenes, cases, CPR training and examination;
3.Emergency scenes script training/assessment: dozens of emergency scenes are available, covering VF, Pulseless VT, Pulseless electrocardio activity, ventricular asystole, acute coronary syndrome, Bradycardia, unstable tachycardia, stable tachycardia, acute stroke and other cardiac emergency cases; these will help physicians practice emergency operation procedures of different cardiac diseases;
4.Provide multiple drug treatment and typical auxiliary examination, chest x-ray, ultrasound ECG and 12-lead ECG, etc; drugs can be added by user-self;
5.Script/cases editing: provide multiple common cases; the animation vividly reproduces the real emergency scenes; emergency cases can be edited by user-self; pathogenetic condition changes and students operation process will be recorded in the software;
6.Operate PETCO2: confirm tracheal intubation position and monitor the validity of resuscitation operation.
7.LAN teaching: teaching for all students, self-study, practice and assessment, teachers computer can monitor all the students computer
8.Available for standalone version and online interactive version. Standalone version can be upgraded to online interactive version
Components:
Hardware:
(1).ACLS Full-body manikin
(2).S7 BP measurement trainer
(3).ACLS functional connector
(4).Laryngoscope
(5).Tracheal canola
(6).Transfusion set
(7).BVM
(8).Auscultator
Software:
-LAN application software for teacher V2.0
-LAN application software for students V2.0
-ACLS script editor V2.0