Description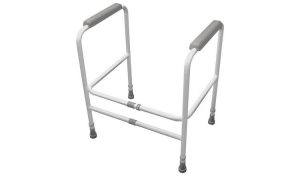 Over the toilet aids are ideal for anyone who finds going to the bathroom difficult. Designed to make the process easier, these useful aids make transferring on and off the toilet safer.
– Featuring a sturdy frame and armrests, over the toilet aids can help to enhance toileting independence for those suffering from mobility issues or reduced strength. Many over the toilet aids are also height adjustable, meaning that they can easily be altered and tailored to suit their user.
– As well as being comfortable to use, over the toilet aids also meet strict safety requirements and can cater to a range of weights. Non-slip rubber tips make these portable devices safe to use on bathroom floors and wet surfaces.
– For easy cleaning, many over the toilet aids feature removable lift back seats.