Description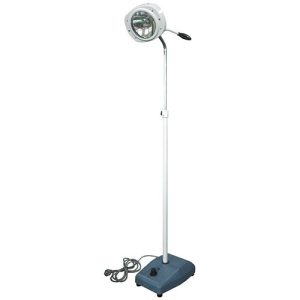 Features
-YD200E (LED) AC/DC cold light operating lamp meets the requirements of lighting for surgical operations in special circumstances or where there is no power supply.
-When there is power failure from electric grid or due to some other reasons, emergency power back up can last 3 hours continuously to make sure that the operation can be done normally.
-It is fit for auxiliary lighting for medical examination on ears, nose, oral cavity, urinary system and gynecology.
Technical Specifications
| | |
| --- | --- |
| PARAMETER | SPECIFICATION |
| Illuminance | ≥60,000Lux |
| Color Temperature | 4800±300K |
| Power Supply Voltage | 220V/50Hz |
| Rated Power of Bulb | 3.2V/1W |
| Bulb | LED bulb |
| Emergency Time | ≥6 hours |
| Total Power Consumption | 70W |
| Total LED Bulb Quantity | 13pcs |