Description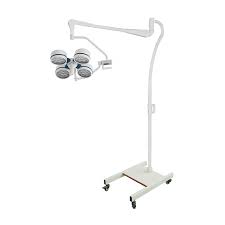 Features
-YD01-IE (LED) AC/DC cold light operating lamp meets the requirements of lighting for surgical operations in special circumstances or where there is no power supply.
-When there is power failure from electric grid or due to some other reasons, emergency power back up can last 3hours continuously to make sure that the operation can be done normally.
-Excellent lighting effect: unique optical system, homogenous light spot, high-definition.
-Long service life: LED life is up to 30,000 hours, energy saving and environment-friendly.
Technical Specifications
| | |
| --- | --- |
| PARAMETER | SPECIFICATION |
| Illuminance | ≥25,000Lux |
| Color Temperature | 4800±500K |
| Power Supply Voltage | 220V/50Hz |
| Rated Power of Bulb | 3.2V/1W |
| Input Power | 56VA |
| Bulb | LED bulb |
| LED Bulb Life | ≥30000h |
| Color Reduction Index (Ra) | 93 |
| Emergency Time | ≥6 hours |