Description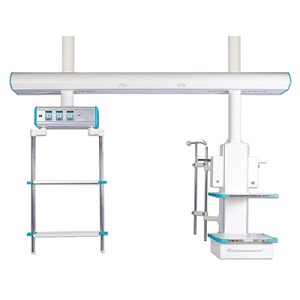 Introduction
AM-T.IIBQ (E) Bridge Pendant is a bridge hanging style specially designed for ICU sick rooms, observing rooms and recovering rooms. All kinds of terminals such as for medical gas, electricity, and network are all gathered on the control board. The function of moving freely makes the operation more convenient. Light is equipped in the middle of the bridge, also we can equip communication machine, monitor, view telephone, background music, teaching and long-distance consultation system according to your needs.
Technical Specifications
– Separate dry and wet sections
– Dry and wet section can electrically move
– Light is equipped in the middle of bridge
– One AIR; two O2; one VAC
– Ten power outlets; two network outlets
Features
– The cross beam and control cabinet of the tower crane adopt the imported high-strength aluminum alloy of patent technology for the one-off extrusion molding, and the surface undergoes the primary oxidation treatment.
– Aluminum molding tray with non-slip texture.
– Mechanical friction damping brake.
– Horizontal movement can accurately position without excursion.
– The gas pipeline, power supply and computer communication line are separately arranged without interference.
– The imported German standard gas terminal (over 20,000 of inserting and pulling out) is adopted. -Dry and wet areas adopt the independent design, and equip with the gas cabinet body.
– The horizontal translation in dry and wet areas meets requirements of omnibearing nursing.
– Middle beam with LED lighting.
Basic configuration
Discharge device (American style) for one compressed air, two oxygen, one suction gas, ten power outlets, two network outlets. (Optional gases)