Description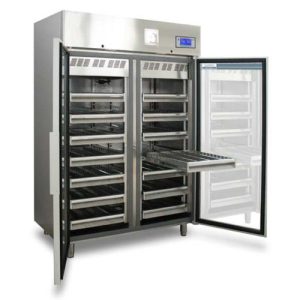 Security
Safety door lock and controller setting password to prevent unauthorized access.
– 72 hours build-in back-up battery to display temperature and alarms when power failure or system error.
– Visual and audible alarm system.
– Power failure protection: turn on delay of the cooling system after power failure.
– Controller error protection: when controller or two sensors failed, the device will keep working depending on the preset program.
Humanized design   
– 4 casters with stopper for easy moving and fixation.
– 12 adjustable shelves and 36 blood baskets for easy storing.
– Special designed service-free drainage system, ensure no water in the cabinet.
– Auto on/off LED light with manual switch on control panel.
– Auto on/off cooling fan to prevent cold air from leaking out when the door is opening.
– Temperature printer: print current inside temperature automatically per 15 minutes.
– Standard 25mm test hole for easy connecting to temperature monitoring systems.
 Technical Data
-Capacity: 658L
-Temperature range: 4±1°C
-Ambient temperature: 10~32°C
-Controller: Microprocessor
-Display: Digital display
-Compressor: 1
-Refrigerant: R134a
-Cooling type: Forced-air cooling
-Defrost type: Frost free
-Power supply: 220V 50~60Hz; 115V 60Hz
-Rated power: 364W
-Electrical current: 2.42A
-Power consumption: 6.31 kWh/24h
Accessories
-Castor: 4
-Lamp: LED
-Shelf: 12
-Test hole: 1/25mm
-Temperature printer: 1
-Chart recorder: optional
Dimension
-Interior size (W*D*H): 1100*454*1325mm
-Exterior size (W*D*H): 1225*640*1895mm
-Package size (W*D*H): 1330*740*2120mm
-NW/GW: 195/262.3kg
-Loading quantity (20'/40'/40'H): 12/27/27