Description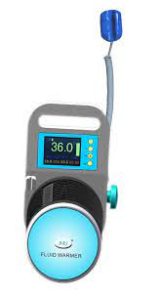 Features
Temperature intellectual controlling technology: Warm the device quickly, warm the fluid automatically and control the temperature accurately in the predetermined temperature, safe and stable;
Color LCD Display: Real-time liquid temperature, set temperature, room temperature, dropping speed (10-300 drips/min), warming time, alarm indication, electricity on or off indication, liquid exist or not indication, wireless access indication;
Security feature: Low temperature alarm & high temperature alarm;
Infrared sensor technology: Audible & Visual alarm for finishing infusion;
Warming structure: dry-groove type, binocular tube warming, faster & better efficiency. Use normal infusion tube, no need special consumables.
WIFI for option, can connect with central monitor system.
Specification
-Safety classification: Type B/Class I
-Power supply: AC 220V±10% 50Hz±1Hz / 110V±10% 60Hz±1Hz
-Power: ≤600W
-Electric shock protection class: I; protection level: B
-Waterproof and dustproof rating: IP64
-Fuse: (AC220V) 4 X T2AL 250V, (AC110V) 4 X T4A L125V
-Temperature set range:
28°C-41°C (increasing rate 0.1°C); 82°F-105.8°F (increasing rate 0.2°F)
-Temperature error: ±1°C (±2.0°F)
-External dimension: 190*550*150mm; weight: 5.5kg