Description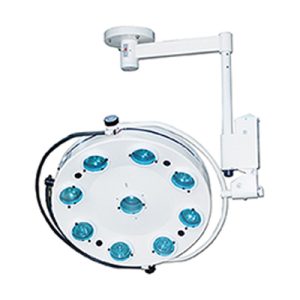 Introduction
AM-L1205L, AML12L, AML09L use of multiple different sources, by focusing knob, so the beam is irradiated from different locations surgery, reduce the shadow medical staff head, hands and other parts caused. The illumination can be adjusted according to actual needs.
Technical Specifications
PARAMETER
SPECIFICATION
Major Bulb Illumination
≥90,000LX (at 1m distance)
Color Temperature
4000K±500K
Color Rendering Index
100≥Ra≥85
Depth of Light Beam
≥500mm
The Value of the Total Irradiance (service range for temperature rise≤10℃)
≤6mW/m²lx
Total Irradiance (temperature rise on the head of patient under surgical operation≤2℃)
≤600W/m²
Mains Voltage
AC220V±10%, 50Hz
Bulb Voltage
AC24V Bulb Power
Bulb Power
225W
Input Power
280VA
Height for Installation
280-320cm
Note: If you want use halogen bulbs, please mention before your order.