Description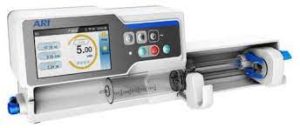 Features
Open system: Accepts all standard syringes of 5ml, 10ml, 20ml/30ml, 50ml/60ml.
Large COLOR LED display
KVO/Bolus function.
Vertical & Horizontal mounting.
Anti-bolus system to reduce significantly after occlusion sudden release.
Three levels of Occlusion Pressure Alarm.
Three work modes: Rate Mode, Time Mode, Dose Mode
Identify the specifications of syringe automatically.
Audible and visual alarm: Syringe Holder Loose, Syringe Plunger Disengagement, Syringe Flange Insertion Error, Syringe Not Calibrated, Occlusion, Syringe Empty, Rate Abnormal, Battery Empty, No Battery, Key Holding During Infusion, Key Holding During Pause, Infusion Complete, Syringe Near Empty, No Action, Battery Low, Out of Flow Range
Stackable: Users can freely stack one syringe pump onto another to provide multiple Solutions
Power lost memory.
Visual and audible alarm system and accurate injection rate make the process safer and reliable.
Change the flow rate without stop during infusion.
8-10 Hours Internal Li-Battery continuous operation.
Accurate and sensitive pressure sensor detects occlusion pressure accurately.
Excellent injection operation. The accuracy will be ensured even at small-volume injection.
Technical Specifications
PARAMETER
SPECIFICATION
Applicable syringes
5ml,10ml,20ml,30ml,50ml,60ml of any standard
Accuracy
+/- 2% with correct calibration
Rate mode
50ml(60ml): 0.1ml/h-2000.0ml/h (0.1ml/h or 1ml/h step)

30ml: 0.1ml/h-1200.0ml/h (0.1ml/h or 1ml/h step)
20ml: 0.1ml/h-800.0ml/h (0.1ml/h or 1ml/h step)
10ml: 0.1ml/h-400.0ml/h (0.1ml/h or 1ml/h step)

5ml: 0.1~200ml/h (0.1ml/h or 1ml/h step)

Time Mode
SOL. VOL: 0.1-9999.9ml (0.1ml step)
TIME: 00:01-99:59min (1min step)
Dose Mode
Volume: 0.1-999.9ml (0.1ml step)
DRUG MASS: 0.1-999.9mg 0.1mg step)
DOSE: 0.001-9999ug/kg/min (0.001ug/kg/min step)
WEIGHT: 0.1-300kg (0.1kg the least step)Dose unit: ng/kg/min, ug/kg/min, mg/kg/min, g/kg/min, ug/kg/h, mg/kg/h, g/kg/h, ug/min, mg/min, g/min, ug/h, mg/h, g/h, U/min, U/h, IU/h, U/kg/h, ml/h
Total Volume Range
0.1-9999ml (0.1 ml step)
Purge Rate
50ml(60ml): 1500.0ml/h,

30ml: 1200.0ml/h,

20ml: 800.0ml/h

10ml: 400.0ml/h, 5ml: 200ml/h

KVO Rate
3ml/h when the delivery rate ≥3ml/h, otherwise KVO is the actual delivery rate
DPS dynamic pressure
Three levels setting Low (60±15kPa), Medium (90±15kPa), High (120±15kPa)
Alarms
Syringe Holder Loose, Syringe Plunger Disengagement, Syringe Flange Insertion Error, Syringe Not Calibrated, Occlusion, Syringe Empty, Rate Abnormal, Battery Empty, No Battery, Infusion Complete, Syringe Near Empty, No Action, Battery Low

Three levels of alarm volume LOW, MEDIUM or HIGH

Bolus Rate
5ml: 0.1~200ml/h,10ml:0.1-400ml/h,20ml:0.1-800ml/h,

30ml:0.1-1200ml/h,50ml(60ml):0.1-2000ml/h

Programmable and adjustable

Bolus Volume
Range: 1.0~50.0ml, (0.1ml step)
Interface
RS-232
Power source
AC power supply: AC 100 to 240V( +/-10%),50/60Hz;

DC Power supply: 12~15V, power>15W;

Built-in Lithium Battery: Rechargeable, 11.1V, 2000mAh.

8 -10hours of continuous operation

Accessories:
AC power line, Operational manual
Protection Class
Class I, Type CF, IP34
Dimension / N.W
240mm*150mm*117mm, 2.0kg
Packing size/G.W
300mm*260mm*160mm, 3.0KG