Description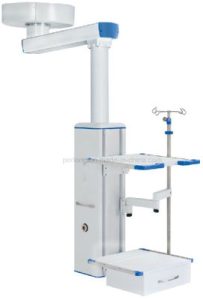 Introduction
T.IIB Surgical Pendant is a necessary equipment for modern clean operation rooms, general operation rooms and ICU sickrooms. All kinds of terminals such as for medical gas, electricity, and network are all gathered on the control board. Some medical machines of certain weight can be placed on the board and drawer.
Features
– The cross arm and control cabinet of the tower crane adopt the imported high-strength aluminum alloy of patent technology for the one-off extrusion molding, and the surface undergoes the primary oxidation treatment.
– Aluminum molding tray with non-slip texture.
– Mechanical friction damping brake.
– The gas pipeline, power supply and computer communication line are separately arranged without interference.
– The imported German standard gas terminal (over 20,000 of inserting and pulling out) is adopted.
– The horizontal rotation function can accurately position without excursion.
Technical Specifications
– Horizontal rotation
– Pneumatic brake & damper device
– One AIR\O2\VAC
– Four power outlets; one network outlet
– High carrying capacity
Basic configuration
One discharge device (German style) for oxygen, suction gas and compressed air, four power outlets, one network outlets. (Optional gases)